1. You might feel like you live in a museum.
You may have spent a great deal of time cleaning and decluttering, but now you are going to need to maintain that cleanliness. Potential buyers are going to expect a home that was as neat as the listing photos they saw, so it is important to meet their expectations. Now that you have officially listed your home, maintenance is necessary. There may be showings where you don't have time to do a full deep-clean, so choosing to keep your home 'show-ready' will help reduce any stress about the appearance of your home for a showing.
2. There will be some inconveniences. 
Now that you've realized your home needs to be 'show-ready' at all times, you might be starting to think that there could be an inconvenience or two during this part of home-selling. While your real estate agent will be helpful in this process, you may need to switch around plans during the evenings or weekends when you are typically home so that your home can be shown.
3.  Expect to hear critiques and criticism.
This is often the main thing that first-time home sellers struggle with. It is not always easy to hear the issues a potential buyer may have with the home you have created. While some criticism can feel insulting, it is important to remember that it is not personal. Potential buyers are not trying to hurt your feelings, they just want to picture your home as their own. Your agent can be a key part in buffering criticism. They will be able to take suggestions from potential buyers and relay it to you in a way that is helpful and constructive.
4. Home maintenance will be crucial.
While maintaining home cleanliness is important, you will also need to keep up with maintenance tasks. Your lawn will need to be mowed, your heating and cooling systems need to be operating properly, as well as any appliances that will be staying when your home sells.
5. There can be some additional expenses.
After you've accepted an offer, the closing process will begin. There will be inspections and final walk-throughs, and this can bring about issues that may need resolved before the sale is closed. Depending on the issue, you may need to pay out-of-pocket for repairs so that you don't need to negotiate your sale price.
If you're ready to sell your home and need someone by your side to guide you as you prepare to list, give me a call today!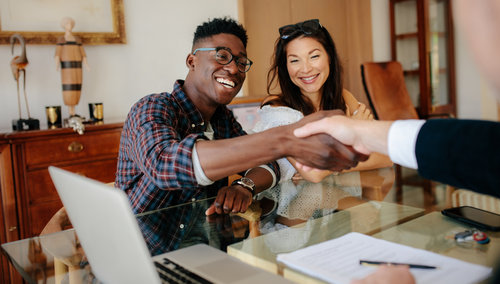 Listing photos are the first chance many potential buyers get to be exposed to your home. This is why being prepared for listing photos and ensuring your home looks ready to sell is a key part in the home listing process. Here are some tips to prepare your home for listing photos!
Clear Off Kitchen Counters & Sink
When the kitchen counters are completely cleared off, buyers can imagine how they might use the space for themselves. Kitchen items and decor only distract buyers can often make the kitchen feel cluttered. You will want to remove everything except a handful of decorative items from the countertops and thoroughly clean all surfaces.
Clear & Clean Bathroom Sinks, Tubs, and Showers
Take all of your bath/shower items and place them into a bin that can go underneath the sink. This can help your bathroom look bigger. Clear off the counters so that bathrooms look unused, but it is okay to leave clean hand towels and hand soap.
Replace Burned Out Light Bulbs
Make sure you check all of the ceiling lights, lamps, and exterior lights to make sure that they all work and can correctly illuminate your space. If there are dark areas in your home, feel free to add a few extra lamps to brighten them up. Additional light can make an area look more spacious so the more light, the better!
Turn On All Lights Throughout The Entire House
You want your home to be captured in the best light, and so it is essential to have as much light as possible. Before your photographer comes, turn on all of the lights in the house!
Open All Windows
Natural light from windows brings life to photos. Opening all of the window treatments in your home to let in as much light as possible. If it's too bright, your photographer can adjust as needed. Make sure you clean the windows if they will be photographed!
Remove Unnecessary Furniture & Decorations
This is probably the hardest part, but it's one of the most important. Removing and storing furniture that doesn't bring value to your photos can be hard, but it opens up the floor space and helps to not distract potential buyers. Buyers want to be able to visualize their items in your home and that can be hard to do if the room is cluttered with furniture.
Turn All Ceiling Fans, TVs, and Computer Screens Off
Any moving items like ceiling fans or active TV/Computer screens can look very strange in photos. You should turn off anything that moves or can cause a motion blur.
Clear Off Appliance Surfaces
Be sure to remove photos, magnets, notes, reminders, and other personal information from the refrigerator or any other appliance you have decorated. It will not only make your home appear cleaner, but it also keeps your personal info safe.
Make All of the Beds
Be sure to make and decorate all the beds in your home with matching sheets, blankets, and pillows. Use bedding fits correctly and covers the mattress.

Are you missing out on homes? Tired of looking at homes on websites & apps just to find out it is already sold?
Want to get know about homes RIGHT as they come on the market or even Homes that will be COMING SOON in the next few weeks?
Join my Buyers in Waiting Program!
Let's chat about what you are looking for in a home…
 # Bedrooms, #Baths, Land, Neighborhood, NO HOA, Need a Basement, Garage, Fenced in Yard? Price Range? Location?
Once we chat I will start sending you info on homes right as they hit the market and even homes that will be on the market in the next few weeks!
Want to know how to get started?
Call or text me at 540-664-3390